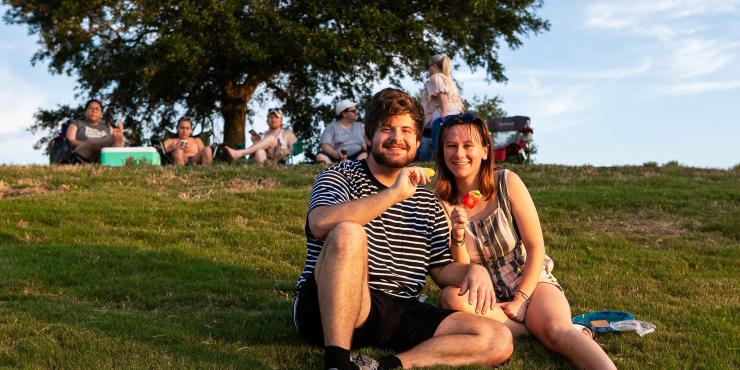 Get ready for a jam-packed weekend of fun and excitement in College Station! From watching the PBR Aggieland Classic to a Spring Carnival at Brookshire Brothers, concerts, and more, there's something for everyone to enjoy. Don't miss out on the chance to experience all the energy and excitement that College Station has to offer this weekend - come join in on the fun!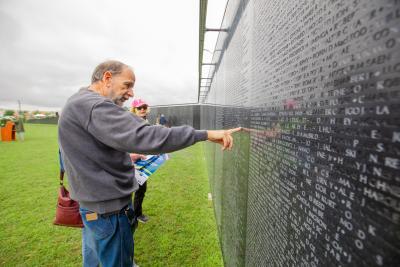 Thursday, April 27th – Sunday, April 30th: The Wall That Heals Aggieland at Veterans Park
In honor of the 50th anniversary of the end of the Vietnam War (3/29/1973), The Wall That Heals is a three-quarter replica of the Vietnam Veterans Memorial in Washington, DC. The exhibit is located in Veterans Park and honors more than 3,000,000 Americans who served and bears the names of the 58,281 who made the ultimate sacrifice.
For more information, visit http://twthaggieland.com/
Friday, April 28th: Kolby Cooper at Hurricane Harry's
If you're a fan of country music, then you won't want to miss Kolby Cooper's upcoming performance at Hurricane Harry's. Get ready for a night of amazing music, good vibes, and unforgettable memories! Doors open at 8 p.m., and the concert starts at 9 p.m.
To purchase tickets, visit https://www.etix.com/ticket/p/8312577/kolby-cooper-college-station-hurricane-harrys.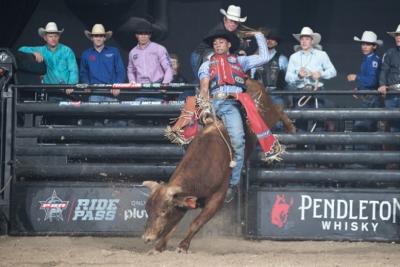 Friday, April 28th and Saturday, April 29th: PBR Aggieland Classic
The PBR PENDLETON WHISKY VELOCITY TOUR returns to Reed Arena, bringing all the high-energy sound, lighting, special effects, and edge-of-your-seat action that fans have come to expect from the World leader in the sport of bull riding. The PBR is NOT a rodeo format - it's two hours of pyro, music, and the most intense bull riding action the world has to offer, filled with heart-pounding, bone-crushing action, and a star-studded line up of the world's best riders and animal athletes.
To purchase tickets, click here https://12thmanfoundation.evenue.net/cgi-bin/ncommerce3/SEGetGroupList?groupCode=RA-PBR&linkID=tamu&shopperContext=&caller=&appCode=
Friday, April 28th and Saturday, April 29th: US Army Camel Experiment
Join us as we learn about the US Army's experiment to settle, supply, and defend the American West with its unique Camel Corps. On both days, formal demonstrations will be held at 10:30 a.m., 12:30 p.m., 2:30 p.m., and 4:30 p.m., with an informal meet and greet with the U.S. Camel Corps between the formal presentation.
For more information, visit https://americangimuseum.org/event/us-army-camel-experiment-2023/
Friday, April 28th – Sunday, April 30th: Kendra Scott Another Year in Century Square Celebration
Join the College Station Kendra Scott team as they celebrate another year in Century Square! From build your own flower bouquets on April 29th to an MS-150 finish line celebration on April 30th, the Kendra Scott team planned a weekend full of fun for everyone.
For the full schedule of activities, visit https://cheerstoanotheryearatcenturysq.splashthat.com/.
Saturday, April 29th: Texas A&M Corps of Cadets - Final Review
Watch 2,300 cadets march in the Corps of Cadets' final event of the 2022-2023 school year. Final Review marks the conclusion of the Corps experience for the class of 2023 and the continued progress for the classes of '24, '25, and '26, who will assume their new Corps positions for the second pass of Final Review.
For more information, visit https://corps.tamu.edu/event/final-review-2/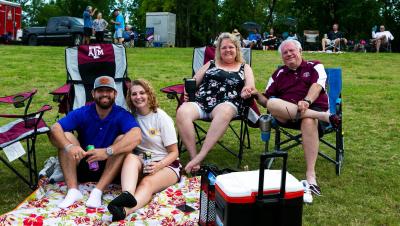 Saturday, April 29th: Starlight Music Series At Wolf Penn Creek Amphitheatre
Grab your coolers, blankets, and lawn chairs for free entertainment during the Starlight Music Series at Wolf Pen Creek Amphitheater. This Saturday, there will be a SA Lights Journey Tribute followed by a concert by Guns 4 Roses. Gates open at 6 p.m., and the concert starts at 7. There is free parking at Post Oak Mall, with handicapped parking near Colgate Drive. Admission is free.
For more information, visit https://www.cstx.gov/departments___city_hall/parks/events/starlight.
Saturday, April 29th: Paint-A-Lele at Thorn Music Center
This is a guided experience where participants can paint a design on their own ukulele. The full experience includes the instrument, supplies, and experience. The partial experience includes the supplies and experience, but you can bring your own ukulele from home to paint. The event will begin at 7 p.m. and end around 8 p.m. but may go later if the painting takes longer to complete.
To purchase tickets, visit https://www.wm1st.com/module/events.htm?pageComponentId=5752098&year=2023&month=Apr&day=29&eventId=3080530.
Sunday, April 30th: Funday at Cavalry Court
Cavalry Court welcomes you to its beloved weekly series for the third year in a row, Sunday Funday. Open to guests and locals of all ages, the three-month series offers an exclusive brunch menu from the onsite restaurant, The Canteen Bar & Grill and is free to attend with a food and beverage purchase. The weekend festivities will be held at the property's resort-style pool area offering live DJ tunes and relaxing cabanas available to rent. Running through June 25th, Sunday Funday additionally features a bloody Mary and mimosa bar, with a percentage of Deep Eddy liquor sales going to Ronald McDonald House Charities.
For more information, visit https://www.cavalrycourt.com/brunch-in-college-station.htm
Sunday, April 30th: Spring Carnival at Brookshire Brothers
Spring has sprung, and what better way to celebrate than with a FREE family-friendly carnival! Inspired by classic fairs, Stage 12's Spring Carnival will have a ring toss, cakewalk, a mini pie-eating contest, turkey legs, and more! Join us on April 30th from 2-5 p.m. for fun every age can enjoy!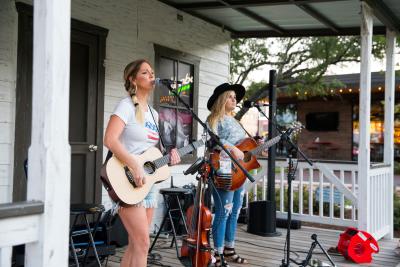 Sunday, April 30th: Grace on the green at Century Square
If you're looking for a fun afternoon with family and friends, look no further than Grace on The Green. Every Sunday, guests can enjoy live music with a line-up of inspirational artists on the outdoor Front Porch stage. Grab a spot under a shaded picnic table on The Green or sit on the patio of some of the best brunch spots in College Station, including Juanita's Tex Mex Cantina, Sweet Paris, MESS Waffles, Harvest Coffee Bar, and PORTERS Dining + Butcher.
For more information, visit https://www.century-square.com/events/detail/grace-on-the-green5
Sunday, April 30th: Movies in the park at Wolf Pen Creek Amphitheatre 
Join us in watching "The Little Rascals!" Bring your blankets, chairs, and picnic baskets to the Wolf Pen Creek Amphitheater to enjoy family-friendly movies on our 32-foot inflatable, high-definition screen. Admission is free. The gates open at 6 p.m., followed by the movie at 7 p.m. Guests may bring refreshments, but coolers must be 48 quarts or smaller. Alcohol and glass containers are not allowed, and food will be available for purchase. Free parking is available at Post Oak Mall, with handicap parking near Colgate Drive. Sorry, pets are not allowed.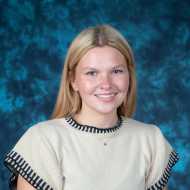 Cameron Hill
Marketing Manager