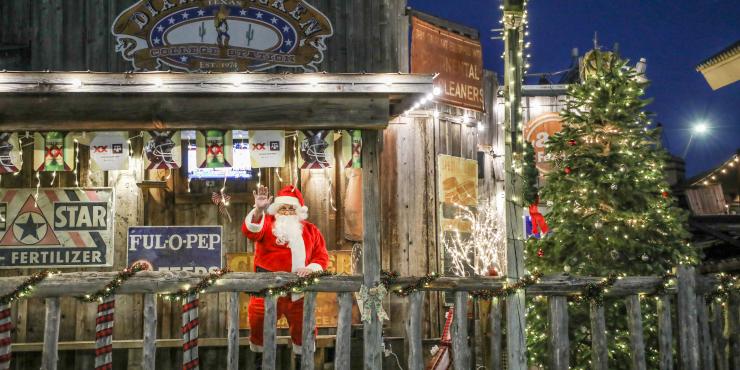 Get ready for more holiday celebrations as we head into the second weekend of December! There's a wide variety of Christmas events happening this weekend that are sure to meet everyone's holiday wish list.
Saturday, December 10th: Breakfast with Santa @ Texas A&M Hotel and Conference Center
Santa is traveling from the North Pole to Aggieland this year in preparation for Christmas.  Join Santa December 10th for breakfast in the Century Ballroom from 8 a.m. to 12 p.m. This magical family-style meal includes all your traditional favorite breakfast dishes, plus a chance for the kids to build their own pancakes and decorate their own holiday cookies with festive toppings plus face painting and a balloon artist for the whole family. Reservations are required.
Reserve your spot at OpenTable - Choose a time for your experience
Saturday, December 10th: Holly Jolly Vendor Market @ Texas A&M Hotel and Conference Center
Join vendors from 8 a.m. to 1 p.m. for shopping for the holidays! Featuring artisanal, handmade, homegrown, vintage, and Aggie themed merchandise crafted by dozens of local vendors! You'll find something for everyone on your list, including a little something for yourself. Admission is FREE!
For more information, visit Texas A&M Hotel Holly Jolly Holiday Market | Facebook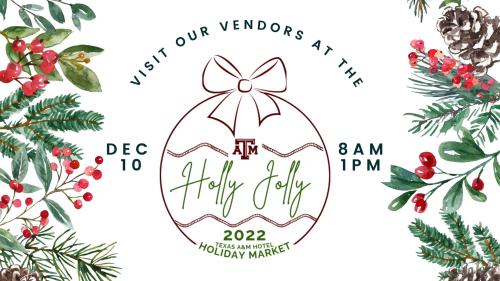 Saturday, December 10th: Howdy Holly-Days at Northgate
Enjoy shopping from local vendors, live entertainment, and fun for the whole family on December 10th from 4 p.m. to 8 p.m. at Northgate. Free parking will be available in the Northgate Parking Garage and Surface Lot in front of the Dixie Chicken until 10 p.m. Want to partake in the Sips & Snacks aspect of the event? For $15, you can sample food and drink items from 12 Northgate establishments. Participating vendors will include O'Bannon's Taphouse, Dixie Chicken, Commanders Cove, Hydro Fusion Lounge, The Backyard, Mama Sake, Exotik Eatz, Beef & Reef, Toku12, Sugar Babies, Dragonfly, and West Church Market.
Learn all about the event at https://visit.cstx.gov/blog/post/visit-college-station-offers-year-three-of-howdy-holly-days-at-northgate/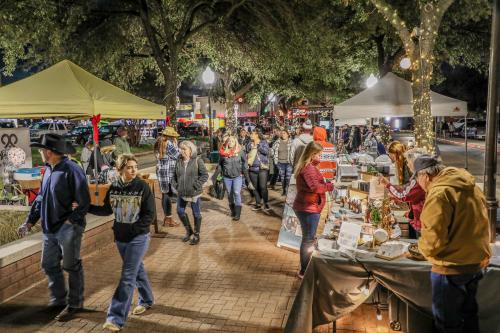 Sunday, December 11th: The Holiday Pops Concert
On December 11th at 5 p.m., come enjoy one of the Brazos Valley's most anticipated holiday season events - the BVSO, the Christ Church Sanctuary Choir and Canticle Ringers, and more performing holiday favorites. What better way to get into the holiday spirit!
To purchase tickets, visit https://boxoffice.tamu.edu/online/seatSelect.asp
Sunday, December 11th: Deck the Halls at Stage 12
Don't be a "cotton-headed ninny muggins" and miss out on this afternoon of Christmas festivities! Deck the Halls with us at Stage 12, where we will be playing the Christmas classic, Elf, on our 14-foot screen. We have plenty of space, so be sure to bring all of your friends. Be there at noon for pictures with Santa!
For more information, visit https://visit.cstx.gov/christmas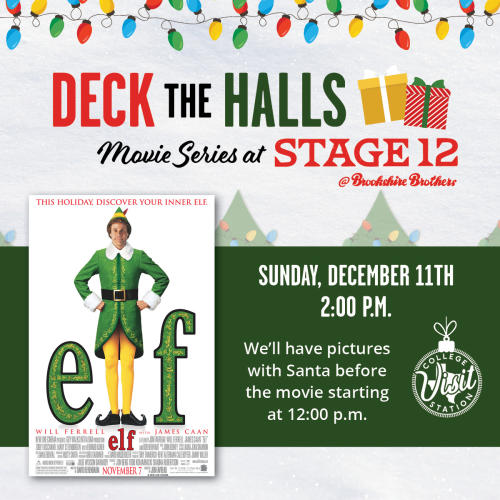 Sunday, December 11th: AIA Brazos Gingerbread Build Off
This one-day gingerbread design and construction competition will put the skills of local architecture, engineering, design, and construction professionals against each other to raise money for the AIA Brazos Architecture in Schools program, an AIAS TAMU leadership grant, and continuing education opportunities for local architecture Emerging Professionals. Teams will build their designs on-site and in full view of the public, with spectators invited to vote for their favorite in the People's Choice category. A panel of expert judges will select the winners in additional categories.
Bring your kids between 10 a.m.- 4 p.m. to try their hands at building their own creations in the Kids Build Area while you peruse the entries.
Don't worry. The competition can't get too salty with all that sugar in the mix!
For more information, visit https://www.century-square.com/events/detail/aia-gingerbread-build-off
November 11th- December 30th: Santa's Wonderland
No holiday trip to College Station is complete without a visit to Santa's Wonderland. This 130-acre Christmas wonderland will amaze guests with millions of holiday lights, family hayrides, horse & carriage tours, and opportunities to meet Mr. and Mrs. Claus. To make your visit merry throughout, Santa's Wonderland is offering a convenient free shuttle to and from the Santa's Wonderland that will be located at Post Oak Mall.
Make the most out of your trip to Santa's Wonderland by checking out our Ultimate Insider's Guide to Santa's Wonderland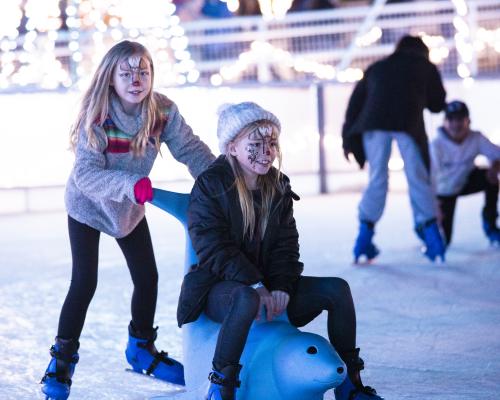 Written by Aubrey Nettles, Marketing Manager
Aubrey Nettles
Marketing Manager