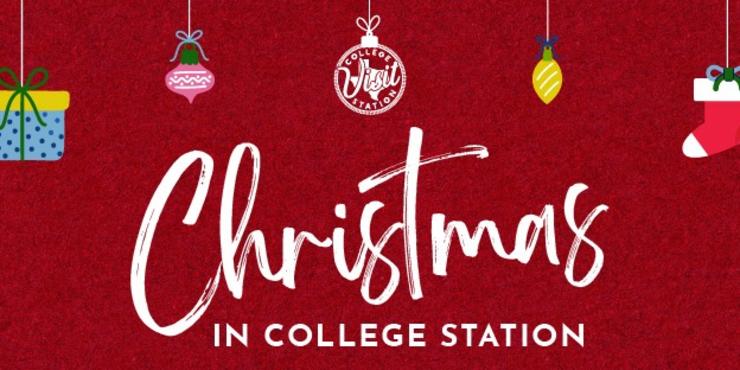 It's December 1st and College Station is in the full Christmas spirit! Join us for a long festive weekend of holiday cheer.
Thursday, December 1

: 

Christmas Tree Lighting / BCS Chamber of Commerce Business After Hours
Lighting of the George Bush Presidential Library Center's Community Christmas Tree! Modeled after the tree lighting ceremony that takes place annually on the White House grounds, the ceremony begins at 5:30 p.m. and will include musical entertainment and a special guest tree lighter. The ceremony will take place outside, and a reception will follow inside. Throughout the month, we encourage people to take their family pictures in front of the beautifully decorated, beautifully lit tree.
To RSVP, visit https://www.bush41.org/events
Thursday, December 1

: 

Swingle Singers Holiday
For more than half a century, The Swingles (as they are affectionately known) have pushed the boundaries of vocal music. The seven young singers that make up today's London-based group are driven by the same innovative spirit that has defined the five-time Grammy® winners since they first made waves in the 1960s. At a time when a cappella music is more popular than ever, The Swingles are recognized as masters of their craft. And after a time like no other, The Swingles can't wait to return to concert stages across the country, including this special holiday concert in Rudder Theatre, to celebrate their 60th anniversary season in 2022-23.
To purchase tickets, visit https://boxoffice.tamu.edu/online/default.asp
Friday and Saturday, December 2 

& 

3: Christmas in the Park Event Weekend
Enjoy old-fashioned hayrides, cookies, hot cocoa, live entertainment, actual snow slides, photos with Santa and reindeer, adopt a Holiday Parks Pal, and more during Christmas in the Park Dec. 2 and 3 from 6-10 p.m. Admission is free. Stephen C. Beachy Central Park will be closed to through traffic from 7 a.m.-midnight, and visitors will be unable to drive through the park. Shuttles run from 4 p.m.-midnight from the Post Oak Mall parking lot (JCPenney side). Handicap parking is available at the Beachy Central Park softball complex, accessed from State Highway 6.
For more information, visit https://visit.cstx.gov/christmas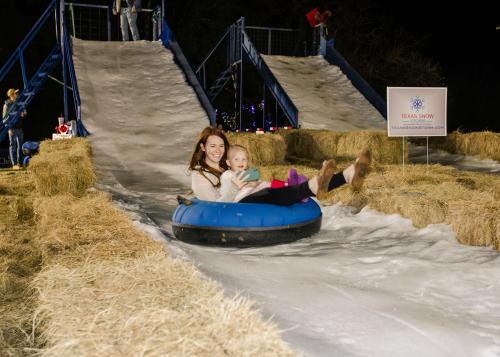 Friday and Saturday, December 2 

& 

3: Nutcracker Ballet
Come travel to the Land of the Sweets and let us show you the ballet world's time-honored holiday tradition that brings together young and old for an evening of magic and enchantment.
To purchase tickets, visit https://www.balletbrazos.org/nutcracker
Saturday, December 3

: 

Breakfast with Blue Santa
Blue Santa is coming to the College Station Police Department! Bring the whole family out December 3rd from 9am - 11am to enjoy donuts, milk, juice, and a portrait with Santa. Kids 12 and under will receive a present while supplies last (one per child).
Saturday, December 3: Holidays in the Rotunda
Get into the holiday spirit with our annual Holidays in the Rotunda celebration at the Bush Library and Museum starting at 10:00 a.m.! This free event takes place in front of the museum's magnificently decorated Christmas tree in the rotunda.
Live holiday entertainment, along with ornament making in Santa's workshop, will get you in the yuletide spirit. Santa Claus will be here to hear your children's wish lists, so bring your cameras! There will be cookies, hot chocolate and punch served during the activities. Author Sharon Thayer will be on hand signing free copies of her book, The Story of Santa's Beard, while supplies last.
To RSVP, visit https://www.bush41.org/events
Saturday and Sunday, December 3 

& 

4: Spirit of Christmas Ice Show and Skate
Spirit Ice Arena is celebrating this Christmas season with their 17th annual Ice Show. After an hour long showcase with dozens of skaters of different skill levels, visitors have the chance to get out on the ice and skate with Santa.
For more information, visit http://spiriticearena.com/
Sunday, December 4: Jingle on the Green
An event for families to come out to Century Square on December 4th from 3-6 p.m. for free photos with Santa, Christmas music, special booths and activities from the Century Square tenants, a hot chocolate station, and holiday performances!
Learn more at Event: Jingle on The Green | Century Square (century-square.com)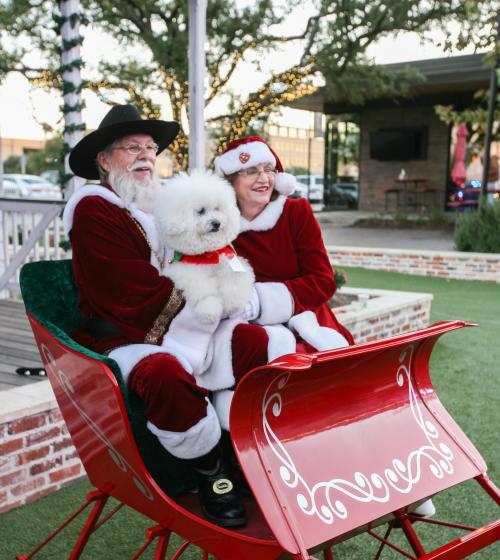 Sunday, December 4

:

 Holiday Spirit of Aggieland
Aggieland's premier holiday choral concert featuring the Texas A&M Singing Cadets, Century Singers, and Women's Chorus. Come and join us at Rudder Auditorium starting at 3:00 p.m. for beautiful and festive music to put you in the holiday spirit.
To purchase tickets, visit https://boxoffice.tamu.edu/online/default.asp
Sunday, December 4

: 

Merry & Bright, Maroon & White Holiday Stroll Through the Gardens at Texas A&M
Tis the season! Join us on December 4th from 5:30-7:30 p.m. for a holiday gathering among the lights at The Gardens! Sip on some cocoa as you stroll through The Gardens to the sounds of a jazz band, marveling at the sparkling lights.
We will also be collecting non-perishable goods to support the Brazos Valley Food Bank at the Holiday Stroll event if you are able to give.
Sunday, December 4: Holiday on the Quad
The annual community event will include booths featuring festive food, hot drinks, games and photos with Santa.
The Texas A&M Corps of Cadets will host "Holiday on the Quad," an event open to the Texas A&M and Bryan/College Station communities, on Sunday, Dec. 4th. The event will begin at 5 p.m. on the Quad, home of the Corps of Cadets, and will end at approximately 9 p.m.
Admission to Holiday on the Quad is free, however, some booths will require a nominal fee. A portion of the proceeds will be donated to local nonprofits.
The Holiday on the Quad event will feature a Christmas light-decorated Quad and a range of booths including food and hot drinks, interactive games, arts and crafts, and plenty of photo opportunities for families and children.
Sunday, December 4

: 

B/CS Christmas Parade
Santa Clause is coming to town! The B/CS Christmas Parade is officially back this year and will be held on Sunday Dec. 4th at 2 PM!
The parade will begin on University Drive at Polo Road and will turn North onto Texas to Sulphur Springs Rd.
For more information, visit https://www.facebook.com/bcsparade/.
November 11- December 30:Santa's Wonderland
No holiday trip to College Station is complete without a visit to Santa's Wonderland. This 130 acre Christmas wonderland will amaze guests with millions of holiday lights, family hayrides, horse & carriage tours, and opportunities to meet Mr. and Mrs. Claus. To make your visit merry throughout, Santa's Wonderland is offering a convenient free shuttle to and from the Santa's Wonderland that will be located at Post Oak Mall.
Learn more and purchase your tickets at Santa's Wonderland - College Station, TX | Texas Christmas Experience (santas-wonderland.com)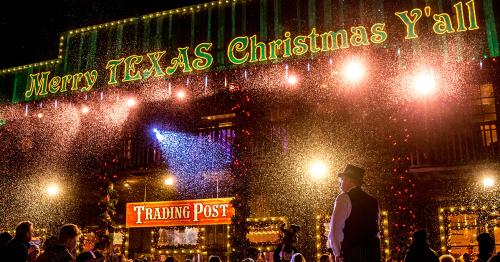 Written by Cameron Hill, Marketing Coordinator