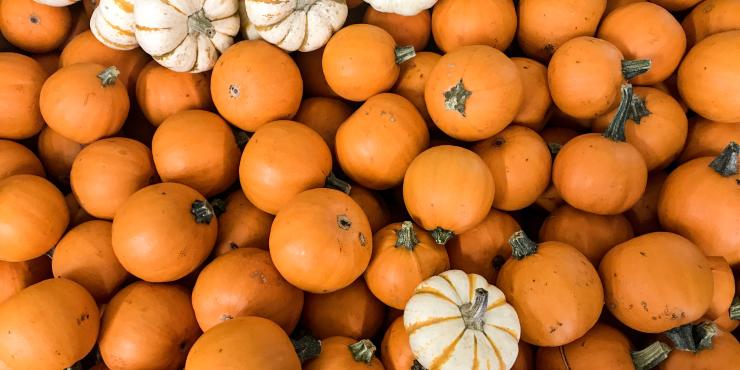 Fall is here, and it's time to celebrate the season with tasty bites, sweet treats, and tons of fun! We've compiled a list of festive Fall activities to help you make the most of Autumn in Bryan College Station.
1. Experience A Local Farm
Soak in the peaceful setting of a farm during this season. The crisp air brings leaves changing color, fertile farmland, and flowers coming to fruition. Take a ride on a tractor pulled wagon through the pecan tree filled farm at Royalty Pecan Farms or see the season's blooms at Basecamp farms. Be sure to attend the U-Pick Sunflower event where 14,000 sunflowers will take over Basecamp farm- come cut them and take home a bucket full of locally grown, fresh sunflowers.
 2. Sample Seasonal Brews
​Taste all of the fall flavor creations that our local breweries have to offer. Grab a spot at the New Republic Brewing taproom to enjoy their Windlass, a dry, robust porter infused with roasted puree sweet potatoes or visit Blackwater Draw and savor their marzen malt-forward beer, OktoberFest. 
3. Shop Local Vendors & Markets
Local vendors fill Messina Hof Winery & Resort to offer one-of-a-kind handmade pieces, food, and artwork at the Oktober Market. Browse the market with a specialty fall sangria in one hand and German food in the other! Lake Walk Town Center hosts The Local each Tuesday in the fall, featuring local artisans, food vendors, and even a pumpkin patch. The Farm Patch in Bryan is open year-round, but is transformed into a pumpkin paradise each fall. Stop by for all your decor needs, as well as garden plants, fresh produce, and locally-sourced goods.
4. Enjoy The Flavors Of Fall At Local Coffee Shops
Start any morning with a visit  to one of our local coffee houses to indulge in a latte with hints of pumpkin or cinnamon, the ultimate fall flavors. Don't forget to add a pumpkin muffin or scone on the side- because you know what goes great with pumpkin? More pumpkin!
5. Bite Into A Sweet Treat
One of the great things about Texas having relatively warm fall weather: ice cream is still an acceptable dessert. Farmhouse Creamery is serving us the perfect fall flavor: apple strudel, an apple-cinnamon ice cream stuffed with bits of pie crust and a cinnamon-apple ribbon swirl. With that cone in hand, your body might think it's still summer but your tastebuds sure won't. If you're in the mood for a pastry sweet don't worry,  Kai's Donuts is bringing back their maple bacon donut for all of us to enjoy- no wonder we love this season so much!  
6. Pick The Perfect Pumpkin
One of the best ways to embrace fall is to bring it home with you. Lucky for you, there are multiple pumpkin patches around BCS where you can pick out a pumpkin that is just right. Lake Walk will have a pumpkin patch set up during The Local, their artisan market. Browse the local vendor's booths before heading to the patch to get that perfect pumpkin. For a field full of pumpkins and gourds every shape and size visit the Bryan College Station Habitat for Humanity pumpkin patches. Great pumpkins for a great cause! The Farm Patch will also be transformed into a fall-lover's dream. Not only does this patch offer over 3,000 pumpkins to choose from, it also makes a great photo opp- now that's a win-win situation!
7. Savor Seasonal Ingredients
Join Ronin in a unique farm to table experience during October's full moon at the Hunter Moon Dinner. Following a 9 course meal in their renovated barn, sip on coffee and eat dessert as you watch the moon rise in their candlelit garden.  
8. Embrace the spooky season 
Whether you want to see pumpkins or ghost fly, we have just the event for you. The annual Pumpkinpalooza event is back to bring you more family fun this year with their pumpkin chuckin'. A hay maze, safari hayrides, and the haunted woods can all be found at the Zootober Fest hosted at Aggieland Safari. Think you can brave the stories of the haunted cellar? Attend the Spooky Cellar Tour to spend your night walking through the Messina Hof cellars and estate while hearing the stories of the ghost that surround you.
  As always, be sure to check back throughout the season at experiencebcs.com to make the most out of any trip to Bryan College Station!