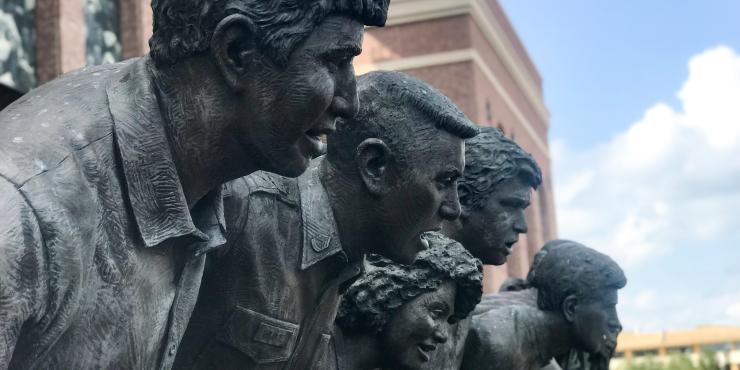 With a huge game at Kyle Field this weekend, there's only one thing on everyone's mind: football, football, football! While the action and tailgating at Kyle Field on Saturday may be your top priority, don't miss out on everything else that's happening the rest of the weekend. Whether it's your first Texas A&M game as an Aggie fan, or you've made the journey to cheer on the visiting team, expect to be treated like a local. Use this guide this weekend to catch all the events, discover the local cuisine, and experience all that Bryan College Station has to offer!
Friday Evening:
After a day of traveling into town, make your first stop in College Station count! Mad Taco is a unique taco restaurant serving bold flavors on tamale bread tortillas, and with so many margarita flavors you just might have to get the flight! Stop here for lunch before heading to your hotel to check in, relax, and get prepared for a night of Aggie traditions and fun! 
At 8:00 PM join other fans at the Hooey Yell Fest concert in the Pepsi Fan Zone. Ross Cooper will open the concert at 8, followed by Cory Morrow. This free event will end just in time to head into the stadium for Midnight Yell. 
Join 25,000+ fans in Kyle Field as they come together to practice various A&M yells and hear fables from the Yell Leaders at Midnight Yell. Whether you're an Aggie or visiting fan, everyone is welcome and it's a tradition you don't want to leave College Station without experiencing! 
To end you first night in BCS, head over to Northgate, College Station's main entertainment district. O'Bannon's Taphouse will be celebrating HalfWay to St. Patrick's Day with Guinness beer and Irish rock music until 2:00 AM, drop by to join the fun!
Saturday: 
Rise and shine! A midday kickoff calls for one thing: brunch. Start off the day strong (coffee or mimosa wise) with a visit to Stella Southern Cafe. Southern classics like biscuits and gravy, cheddar grits, and eggs benedict will leave you full and ready to start your game day. 
Festivities begin at 12:15 PM with the Texas A&M team Spirit Walk. Line Houston Street and watch as the The Nationally Famous Fightin' Texas Aggie Band leads the team to Kyle Field. 
90 minutes prior to kickoff at 1:00 PM, all 2,500+ members of the Corps of Cadets will step into formation, marching from the quad to the Fan Zone before entering Kyle Field. We encourage you to spend some time watching this tradition and see what makes Texas A&M so unique!
We all know tailgating is a must before entering the stadium. If you're looking for an area to do this head to the Pepsi Fan Zone, the Clayton W. Williams Jr. Alumni Center, or walk around Spence Park in search of an inviting group of tailgaters!
With a 2:30 PM kickoff we suggest entering Kyle Field around 1:45 PM. This will give you enough time to navigate the stadium, find your seats, and watch the flyover and team entrance. Check out our Aggie Gameday Survival Guide here for more helpful tips!
The game should end right around dinner time and with all that activity we know you'll work up an appetite. Lucky for you, we know just the place. Make your way into the heart of Downtown Bryan to discover Rx Pizza & Bar. This restaurant is sure to hit the spot with their handmade dough, brick oven pizza, and toppings galore. 
Finish your night with celebratory drinks on Northgate at Aggieland favorites like the Dixie Chicken, Chimy's Cerveceria, and Cedar Lane.  
Sunday:
Kick the after gameday blues with brunch at Hullabaloo Diner. Enjoy sitting in a silver tin diner car while scarfing down delicious brunch options- from sweet to savory, they've got it all!
Prior to heading home, reap all the benefits of an Aggie win by taking your game ticket to Aggieland Safari to receive half off admission! Spend your last bit of time in BCS exploring 250 acres of safari- feeding, petting, and getting up close and personal with exotic animals, all while sitting in your own vehicle.
We hope you enjoy your time here in BCSTX!