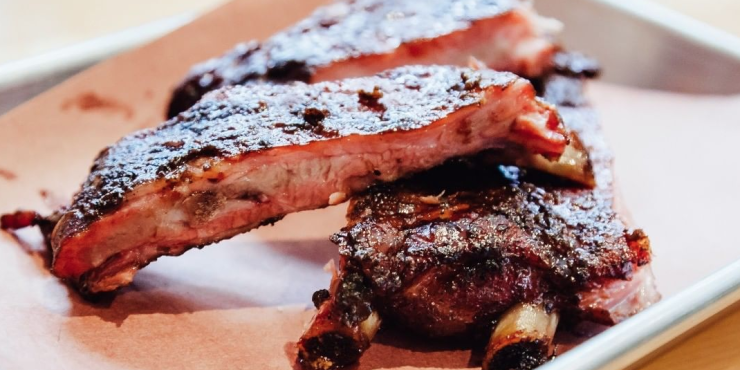 Melt-in-your-mouth brisket, ribs that just slide off the bone, and spicy sausage, all roasted over oak and mesquite wood. Is your mouth watering yet? If so, you've got to feast your way along the Brazos Smoke Texas BBQ Tour in Bryan College Station. Follow the trail to eight of the best barbecue restaurants around, each with its own take on Central Texas barbecue lovingly cooked up by expert pitmasters.
Barbecue is serious business in the Brazos Valley, and tasting some is a must while you're here. Discover a few stops along the Brazos Smoke Texas BBQ Tour below, then plan your next visit to Bryan College Station here.

All The King's Men
Step into this barbecue joint in Bryan and you'll be greeted with an enticing aroma of a kaleidoscope of slow-cooked meats. All The King's Men's menu is full of edible eats to dig into. Start with the candied pork belly burnt ends, a dish that made it onto Texas Monthly's Best BBQ Bites of 2018. Follow that up with a hearty serving of ribs, sausage, pulled pork, or the restaurant's specialty: brisket or turkey breast. Inventive sides like the jicama green apple slaw and creamy Havarti grits set the stage for the final act, a decadent slice of coconut cream pie, bourbon pecan pie, or raspberry almond shortcake.
Along with its palate-pleasing eats, All The King's Men boasts an array of rare bourbons and more than 30 Texas craft beers on tap. Enjoy it all in the barbecue joint's location in the heart of Historic Downtown Bryan, and don't leave without a souvenir t-shirt.  

1775 Texas Pit BBQ
Although recently opened, 1775 Texas Pit BBQ has wasted no time in making a name for itself on the Lone Star State's barbecue scene (Texas Monthly named it among the Top 25 New Barbecue Joints in Texas). Owned and operated by military veteran Brad Doan, this College Station outfit roasts its meats over slabs of oak from Central Texas. Peppery pork ribs and turkey breast spiced with a pinch of paprika provide plenty of flavor, but 1775 Texas Pit BBQ is perhaps best known for its delightful prime brisket. Not to be outdone, the corn casserole and loaded mashed potatoes are so good you'll want to take a second serving home with you. Made from scratch by Doan's mom daily, you'll feel like you're right at home with each bite.  

Good Bull BBQ
If you're a devotee of delicious barbecue, you know there are many ways to enjoy this Texas staple. At Good Bull BBQ, you'll find this Lone Star favorite fused with another popular dish: tacos. Filled with brisket, pulled pork, and a host of other fixings, Good Bull BBQ's tacos will have your taste buds doing the Texas two-step. Make sure to try the Pig Mac, a savory treat that combines pulled pork, white queso mac and cheese, and the special Mama May's sauce. Traditional favorites like brisket, pulled pork, chicken or turkey breast, ribs, and sausage are on the menu as well. It's all cooked up by pitmaster Roy May, a former Aggie Yell Leader, and U.S. Army veteran who aided in rescue efforts at the Pentagon on Sept. 11, 2001.
As tantalizing as Good Bull BBQ's food is, eating here also contributes to a good cause. For every meal sold, Good Bull donates a meal to either the Brazos Valley Food Bank or the Mission of Hope, Haiti. Great food and a good cause; how can you beat that?

C&J Barbeque
Nestled in the heartlands of Texas, the folks of the Brazos Valley know a thing or two about great barbecue. When they vote a certain restaurant as "Best of the Brazos" more than 15 years in a row, you should pay attention. C&J Barbeque started out in a gas station in 1981, and has since become something of a local sensation. Even the likes of President George H.W. and First Lady Barbara Bush would stop in when they were in Bryan College Station. Visit any of its three locations to taste the restaurant's succulent pork and beef ribs, turkey, sausage, chicken, and other meats by the pound. Add any of the savory sides—the ranch potatoes are a must-have—and you're well on your way to a great meal.

Martin's Place
There's something to be said for getting back to the basics, especially when doing so leads to a cafeteria tray loaded with spectacular Texas-style barbecue. Martin's Place is just the place to go for the timeless classics. While the brisket is a local favorite, the restaurant also roasts up ribs, sausage, and chicken on Fridays. Plate your choice of meat with the house German potatoes, coleslaw, pinto beans, onion rings, or any of the other sides and you'll leave fully satisfied. Owned and operated by three generations of the Kapchinskie family in the same building (now a Texas Historical Landmark) since 1925, dining here is like getting a taste of Brazos Valley history.
  Three other barbecue restaurants—Fargo's Pit BBQ, J. Cody's Steak and Barbeque, and BBQ 13 - 0—round out all the stops on the
Brazos Smoke Texas BBQ Tour
. With so much mouthwatering, slow-roasted meats to enjoy, you'll want to take your time to "Risk It for the Brisket."