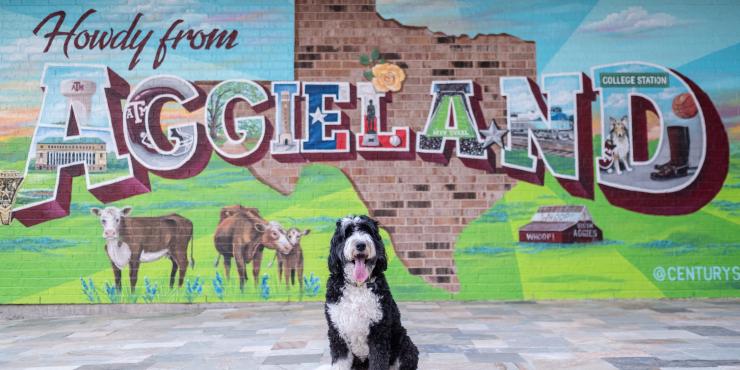 Hi furr-ends! Sally here.
I'm a fluffy Bernedoodle that loves to roadtrip. I've been all over the country with my adventure-seeking paw-rents, discovering new cities and making new friends everywhere I go! I'm learning that some places are more accommodating to furry friends like me, and Bryan College Station is 100% one of those spots. I WUFFED it! 
Want to know what I loved most about "BCS"? Our puppy-loving hotel, Cavalry Court! It was paw-fectly accommodating to me in every way, and I'm already begging my humans to take me back. Here's what I loved about it, and why I can't wait to return. (Maybe for my fourth birthday, hint hint?)
THE GROUNDS
I knew I liked Cavalry Court from the moment I laid big puppy eyes on it. It's "casual cool" (kind of like me), with a spacious green courtyard, cozy fire pits and chairs for relaxing, big yellow rocking chairs, and a sparkling pool with modern cabanas (more on that later). 
The lobby was decorated with quirky, Texas inspired accents, and the people at the front desk were always so kind to me. 
Just steps from the property was a spacious grassy area with a big tree, where I could run free, play fetch, and take care of my business. As you can tell by the smile on my face, it was glorious!
OUR ROOM
Oh boy, our room was grand! I'm not sure what I loved more, the big comfy bed or the nice cool tile in the luxurious bathroom! 
My paw-rents kept talking about the stylish design - how they loved the big barn door, luxurious bedding, and the big SMEG fridge stocked with local beer and sparkling water. 
I just liked that there was so much room for me to roam, and that they had treats for me upon arrival! Speaking of treats...
CANTEEN BAR
Cavalry Court's in-house restaurant, Canteen Bar may have been the highlight of my trip. Sure, they have great "people food", a free continental breakfast for hotel guests, specialty cocktails, live music and more… but they also have puppy ice cream. PUPPY ICE CREAM! 
After spending a day in the warm Texas sunshine, it was a much-needed treat, and it sure was tasty! I licked the cup clean in no time!
THE POOL
Any puppy friends that are reading this know that hotel pools are typically a touchy subject. While they look so fun and inviting from outside the fence, it's rare that we're actually allowed inside the pool area. Imagine my excitement when I found out that at Cavalry Court, leashed pups are allowed inside (just not in the pool)!
I relaxed in the shady cabana and played on the warm grass while my paw-rents swam around, and we even ordered a yummy lunch from the Canteen Bar! (They even snuck me some bacon!)  
THE LOCATION
And the best part about Cavalry Court? It's killer location! Located steps from Century Square, a trendy retail, restaurant, and entertainment space. Many of the restaurants have dog-friendly patios (my favorite was Sweet Paris Creperie & Cafe), and their colorful Aggieland mural is a must-see! 
We all enjoyed the convenience of walking to Century Square every morning - my dad would get a coffee at Harvest Coffee Bar, and my mom would get a juice at Clean Juice, and I inevitably made a few friends along the way.  
See why I'm so obsessed with Cavalry Court? It's a puppy paradise! I can't wait to come back and relax on the cool tile, indulge in some ice cream, and cuddle up with my folks by the cozy bonfire. Who's joining me?