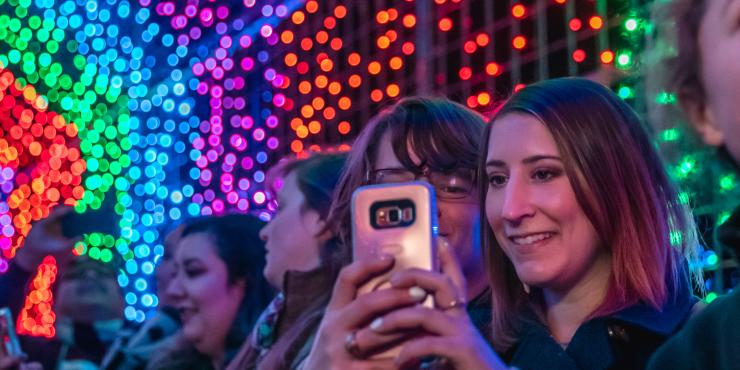 The best way to spread holiday cheer is snapping a photo for all to see! Capture the magic of the holiday season in these 7 different locations in Bryan College Station.  Be sure to tag your photos with #bcstx so that we can show our followers what it means to Experience Christmas Magic in Bryan College Station!
Plan some Christmas Magic for the whole family at experiencebcs.com/holidays!
Historic Downtown Bryan
Blocks of Christmas lights and wreath-filled streets make any spot in Downtown Bryan look like a picture perfect holiday postcard! Snap a photo and share that BCS holiday cheer with your followers!
You can't have a list about the holiday season in BCS without mentioning the largest Christmas attraction in Texas! College Station is home to Santa's Wonderland, which not only offers some of the most festive photo-ops in Texas, but also lots of fun while you're at it. Pose with giant polar bears, snap a photo while enjoying a hayride, or get the perfect shot at a light show- whatever you want, Santa's Wonderland has you covered!
Swap the usual springtime blooms the gardens brings for an arrangement of wreaths and holiday lights. Gorgeous landscaping and holiday decorations? Sounds like the perfect spot to catch that insta-worthy photo!
Featured on the first season of Diners, Drive-Ins, & Dives, this silver tin dining car is already a one-of-a-kind place to take pictures, but the added Christmas trees and rustic decorations in the front give it the holiday feel your social media feed needs! The best part is- you can get a delicious meal to photograph (and eat) at this spot too.
47 acres of open green space paired with Christmas lights and decorations make this park the perfect place to capture your next instagram picture. Bring along your furry friends to this location to capture them in the holiday spirit as well!
Kelumac Christmas Tree Farm
Capture the glow of the sun through the bristles of the hundreds of Christmas trees that surround you at this location. Get that stunning photo your instagram needs and leave with a new Christmas tree for your home!
This 250 acre safari park and adventure zoo is being transformed into a winter wonderland for the first time ever this year! With a live Nativity scene, fire pits, a train, and a Safari Santa this sounds like the perfect spot to enjoy the day and snap away!
Ready for a festive Bryan College Station photoshoot of your own? Follow us on Instagram @experiencebcs for more inspiration, and don't forget to show us your photos by using #bcstx!
Don't forget to checkout experiencebcs.com/holidays to get started on your Christmas adventures in BCS.