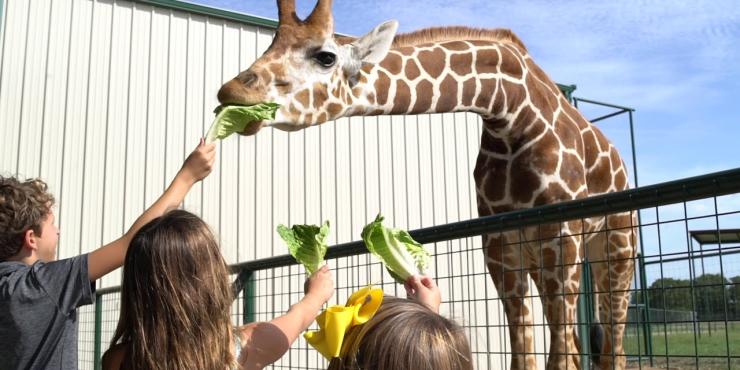 Leave "the usual" in your rear view mirror this Spring Break & discover your family's new favorite roadtrip destination right here in Bryan College Station, Texas. We're home to memorable experiences, amazing food, diverse arts & culture, and we're within driving distance of most of the state of Texas! At only 1.5 hours from Houston, 2 hours from Austin, and 3 hours from San Antonio and DFW, a trip to BCS guarantees more smiles per gallon. So come hungry, bring your camera, and get ready to make memories to last a lifetime with your family!
Discover Bryan College Station's wild side at Aggieland Safari! Home to giraffes, hippos, monkeys, and more, it's no wonder this top attraction is known as "The Serengeti of the South." Explore a 250-acre Drive-Thru Safari, where you'll feel like you've been transported to the plains of Africa. Then discover the 20-acre Bushwalk "Safari On Foot," where you can get up-close-and-personal with giraffes, tortoises, birds, kangaroos, and more. On Saturdays and Sundays you can even hop on a majestic camel & enjoy a ride around the lake. Parents can relax under the covered pavilion, enjoy the sunset, and toast to an amazing adventure while surrounded by these exotic animals, while the kids play in the recreation area. The giraffes might even pop their heads into the pavilion to say hello!
Add a presidential twist to your family's spring break plans with a visit to the George H.W. Bush Presidential Library & Museum! This museum tells the story of a lifetime of love between a President & First Lady, presents new perspectives on the life and work of President Bush, and features exciting rotating exhibits throughout the year. Through artifacts, film, photographs, documents, music, sound effects and interactive videos, this special museum experience encompasses much of U.S. history since 1941. See a World War II Avenger Torpedo Bomber, a 1947 Studebaker, a slab of the Berlin Wall, and precise replicas of President Bush's Camp David and Situation Room. In addition, a special section is dedicated to First Lady Barbara Bush and her efforts on behalf of literacy, AIDS awareness and prevention, and volunteerism.
Beginning March 2, 2020, the Bush Library will host "Louder Than Words: Rock, Power and Politics." This one-of-a-kind exhibit explores the power of rock to change attitudes about patriotism, peace, equality, and freedom. Using video, multimedia, photographs, periodicals, and artifacts, "Louder Than Words" showcases the intersection between rock and politics. It explores how artists exercise their First Amendment rights, challenge assumptions and beliefs, stimulate thought and effect change.
We've got the brands you love along with some unique options for a change of pace, and all at a price-point that works for your family! In fact, during spring break this year you can find rates as low as $48/night at select hotels. To top it all off, with one of the best boutique hotel scenes in the State of Texas, here in BCS sometimes the hotel is the destination!
Spring in a college town means two things... baseball season & softball season! At Aggie Baseball games, Section 235 leads the fans in the infamous "Ball Count" chant. The whole stadium holds their fingers in the air to guess the number of engines on passing trains. If you're lucky, an Aggie engineer might blow the train's whistle to the tune of Hullaballoo. The Aggies "saw 'em off" together, arm-in-arm, as the War Hymn plays. Don't forget your bubble machine! You'll need it to join in on the celebrations after each Aggie run. At Olsen Field at Blue Bell Park, the thrills of college baseball, Aggie traditions, and one of the greatest fan-bases in all of baseball combine to create what's known around the country as "Olsen Magic."
Texas A&M's softball team is consistently one of the best in the country. With a brand new home, a rowdy fan-base, and the Spirit of Aggieland behind them, it's sure to be a thrilling season at Davis Diamond!
You can't talk about Bryan College Station without bringing up the amazing food. This is Texas after all, and we Texans love to eat and we do it right! From gourmet pizzas at places like RX Pizza or Howdy's Pizza, to some of the most unique tacos & best queso you'll find anywhere at Fuego & Mad Taco, some fantastic burger joints, and even a few of the top barbeque joints in the state... you're sure to find something the whole family can get on board with!
Shopping, bbq, craft beer and more for mom & dad... interactive arts, music, ice cream, and movies for the kids.... and all while strolling the historic streets of Downtown Bryan! This lively neighborhood is home to festivals & events year-round, so be sure to check out the calendar & more info here: experiencebcs.com/downtownbryan
This thriving entertainment district, located just across the road from Texas A&M, is home to a retro candy store, ice cream shop, pizza & burger joints, dine-in movie theatre, boutique hotels, shopping, spas, and so much more! With weekly live music and other events throughout the year, Century Square has become a top attraction in the Bryan College Station area. Their spring events schedule is coming soon, so keep an eye out here: www.century-square.com/events/
Just about 20 miles from South College Station, Washington on the Brazos State Historic Site is "where Texas became Texas." In the spring you can find some of the best wildflowers in Texas here. Located on 293 acres of lush park land, the picturesque site gives visitors unique insights into the lives and times of the 59 delegates who met on that very spot on March 2, 1836 to make a formal declaration of independence from Mexico. 
Washington on the Brazos has many onsite attractions open daily, as well as an incredible year-round schedule of events and programs.  On the grounds of this Texas Historical Comission-run state park is the Star of the Republic Museum (administered by Blinn College); Independence Hall; and Barrington Plantation. The site's Visitor Center features interactive exhibits which present a timeline of the Texas Revolution; it also houses the spacious Washington Emporium Gift Shop, which offers snacks and a wide range of Texas-themed items. All visitors are encouraged to start with the Visitor Center. This facility is free to the public and is the best place to gather information on the park, Star of Republic Museum, Independence Hall, Barrington Plantation, and purchase entry tickets.
Washington on the Brazos State Historic Site is the core of the Republic of Texas Complex, which also includes Fanthorp Inn—a wonderfully preserved 19th century stagecoach inn located nearby in Anderson, TX. A visit to this significant historic site is a must for all Texans and newcomers alike! You can plan your visit here: wheretexasbecametexas.org/
Ready to plan your family's trip to Bryan College Station? Get started here!
Not quite convinced yet? Follow us on Instagram (@experiencebcs) for even more attractions, events, and of course, food!