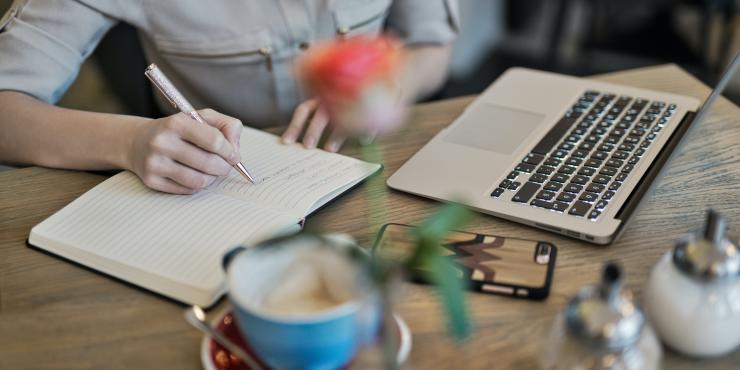 What We're Watching
By Jo & Mo
"Be a lifelong student. The more you learn, the more you earn and the more self-confidence you will have."
- Brian Tracy
Pause. Reset. Evaluate what is. Breathe.
We talked this week on our Vlog - Morning Jo with Mo - about what webinars we are watching. More specifically, we discussed why we are enjoying the chance to "find time" to invest in ourselves and learn from professionals in our field. The opportunity to stay current with trends, up-to-date with emerging topics, and as for the takeaways, to generate a flow of new ideas. Wow. Upon indulging in all things education, development and tips-n-tricks, we concluded that we connected best with content that focused on communication- really no surprise there. We're talkers and we like to be heard. We are also d-y-i-n-g for more information that no one has yet. When will the state really re-open? When will our kids go back to school? When will it be 'safe' enough to have large gatherings again? We're planners! And, right now it feels like there is nothing to plan. We've got one question answered: both of us have hair appointments scheduled. Priorities, right? Joking, kind of. 
If you, like us, are soaking up content like a sponge, here are some recommendations from our team on what to watch/download/listen to next. If you have any recommendations of your own, we encourage you to share! 
So go grab that cup of coffee, and here's to coming out of all of this with a new/improved skill, friends! (At least that's what we're going for)
Cheers, 
Jo & Mo 

1. Leadership, Development & Work Culture:
Create a Strong Foundation for an Ethically-Based Culture Presented by Texas Society of Association Executives
Company culture either attracts, engages, and retains top talent or they leave. Identify how to create your ethics based culture, then how to hire for it, onboard, and engage so that all employees feel empowered. 
Visit www.seminarweb.com/join and enter the following serialized code: YMWJVDNYAD.
Managing People - Showing Up with Empathy and Heart presented by IACC 
A global expert panel discusses the key importances in managing remote team members and communicating with clients and colleagues. 
Visit http://www.iacconline.org/managing-people to watch on demand for free right now
Leading High Performing Sales Teams presented by IACC and delivered Ciara Feely
Sales is about leadership. Sales is also about having a team who are comfortable and skilled to gently lead the client to want to buy from you. Ciara talks about how you can lead your team to help make the client make the right decision and want to work with your team. 
Watch this previously recorded webinar on demand for free now at http://www.iacconline.org/iacc-sales-webinar-leading-high-performing-sales-teams
How to Create a Positive Mindset When Working From Home presented by IACC and delivered by Kim Pung and Cindy Novotny of Master Connection Associates 
"Remote work is not traditional work which is simply conducted in a home office instead of a company office [...] The principles of remote work are different. The approach to conducting work is different." - Gitlab. Children, Spacing (no defined home office), privacy, bandwidth and technology issues, choice… these are just some of the current realities for many of us. Kim and Cindy are here to help you navigate this new reality. 
Watch this previously recorded webinar on demand for free now at http://www.iacconline.org/working-from-home
2. Sales
How to Reach out to Existing and New Clients During this World Crisis presented by IACC and delivered by Cindy Novotny, Master Connection Associates 
Now is not the time to go silent. Do not let your competition be seen or heard from more than you. Watch this previously recorded interactive online discussion for advice, tips and encouragement! 
Visit http://www.iacconline.org/reaching-clients to watch on demand for free right now
Creative Ways to Prepare to Come Out of COVID-19 Situation presented by IACC and delivered by Cindy Novotny, Master Connection Associates
"Everyone of your customers is going to have different issues coming out of this… be their resource," says Cindy. Your connections now will define you on the other side, so speed up your recovery by building brand value and awareness now. Adapt now for the future. Cindy also discusses discounting strategies that should be considered. 
Visit http://www.iacconline.org/coming-out-of-covid-19 to watch on demand for free right now
Understanding Profitability That will Win More Business presented by IACC and delivered by Stacey Geyer, CHSE of Master Connection Associates 
Do you know the difference between profitable vs probably business? Is a piece of business worth your ROI and effort? Are you asking the client the right questions upfront to qualify the business? Learn how to maximize profit by smart selling. 
Watch this previously recorded webinar on demand for free now at http://www.iacconline.org/iacc-sales-webinar-understanding-profitability
Understanding the Sales Process presented by IACC and delivered by Kimberly Pung, Master Connection Associates 
Reboot your sales process with Kimberely and learn about tactics to increase the amount you are booking. We all sit in a lot of long strategy meetings, but sometimes the basics get overlooked. Go after the business you WANT and not just take the business coming in. Kimberly shares on how to help increase inquiry call conversions and improve outbound selling. 
Watch this previously recorded webinar on demand for free now at http://www.iacconline.org/understanding-the-sales-process-webinar
Writing Proposals That Win presented by IACC and delivered by Ciara Feely 
Guess what, clients are always believing traditional sales and marketing strategies. Times have changed and our clients and customers are more dependent on what their peers, other people attending conferences and event strangers on social media are saying. People will make decisions based on how you make them feel. Ciara brings to reality that at the end of the day our customers are dealing with their reputation and the brand of their company - have you earned the right to graduate by sending a proposal to them? 
Watch this previously recorded webinar on demand for free now at http://www.iacconline.org/iacc-sales-webinar-writing-proposals-that-win
3. Marketing:
Discusses a variety of topics ranging anywhere from marketing, LinkedIn, Social Media, Ad Campaign best practices, etc.
LinkedIn Branding with Terry Sullivan
Key branding and Social Selling strategies, tips to create a well-branded LinkedIn profile, Now is a good time to make sure your online brand aligns with who you are so you can communicate it to others
Posted on the MPI D/FW Facebook Page
Email Marketing Best Practices Explained
Learn the best time to send your email. Explore and develop the skills on what goes into the perfect email. Get a peak at what others in the industry are sending.
*May require a login to SImpleview
PIVOT: Posting In Very Odd Times with Brooklyn Calloway, Social Media Guru. 
Be ready so you don't have to get ready. Shift to relationship marketing. People's buying decisions are based on convenience and price but innovation and relationships keep them. Use the EIEIO method online: be Educational, Inspirational, Entertaining, and Informative.
Posted on the MPI D/FW Facebook Page
4. Technology & Virtual Conferences:
Technology - Defining Reality, Dealing with Today's Demands presented by IACC
As venues plan for the re-opening this summer, this panel of industry experts look into the changes in needs by meeting planners and how venues need to react. This is one several IAAC Shorts series on various different subjects. 
Visit http://www.iacconline.org/iacc-shorts-technology to watch on demand for free right now 
Meeting Professionals International has content on how to plan virtual events based on the hugely successful virtual Global Meetings Industry Day (GMID) held in April in lieu of the usual live event. 
Whova Webinar for Virtual Conference
Whova - event app
Virtual conference made simple and interactive. This webinar covers streaming, video replay, attendee engagement & networking - everything you need! There are two webinar dates left - May 11th & May 13th!
Read our blog from Alex Freeman of Texas Association of Museums about his experience pivoting to a virtual conference in 2020. 
5. Servicing:
Convention Services After the COVID-19 Crisis (Two Part Program) Presented by Event Service Professionals Association (ESPA)
I. A venue based panel will be highlighting new efforts to address concerns post-COVID19. Immediately following, hear from CVB convention service Directors and managers on new services offered post-COVID19. 
II. A panel of meeting planners will highlight their challenges moving forward with face-to-face meetings post-COVID19.
Other resources:
Meeting Professionals International (MPI) has made registration free for many, if not all, their current and on-demand webinars. To register for upcoming events visit their website
International Association of Conference Centers (IACC) has made access to their webinars on demand available to anyone. IACC is encouraging anyone who is wanting to strengthen their skills by providing these webinars on demand at no cost with advice from fellow leaders in meetings and events, sales, team-building, technology and more. IACC venues rank in the top 1% of small and medium-sized meeting venues in the world for creating unique events, meetings and conferences - and we have an IACC certified property right here in College Station, The Texas A&M Hotel and Conference Center! 
Visit https://www.iacconline.org/2020-webinar-line-up 
Take advantage of every organization providing content right now. The knowledge you have the potential to gain could be invaluable. We'd love to learn about other great resources out there; podcasts, white-papers, online demonstration or seminars. Let's all take the time to prepare ourselves for what's to come. 
Cheers!