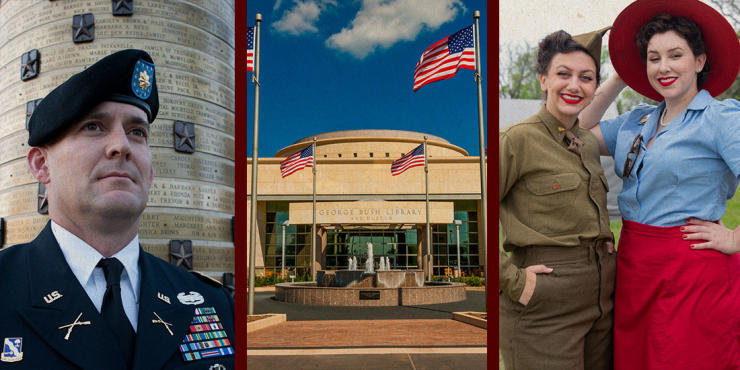 In College Station, we are proud to honor those that served our country, and that pride is evident throughout our city. We are a community that knows the sacrifice and hardships that go into the uniform, and we invite you to join us in honoring true American heroes. Visit our 12-acre memorial, experience hands-on-history at one of our interactive museums, and so much more. The months of October and November bring special historical celebrations and experiences to College Station. We invite you to join us.
Museum Of the American G.I
Oct 22: WW II Tank Experience
Participants will ride in 3 tanks (light, medium and tank destroyer) along with other activities in this immersive all-day experience. (The museum is closed to the public this day). Price: $750 per participant (+ $5 processing fee), Must be pre-booked.
WWII Tank Experience - Museum of The American G.I. (americangimuseum.org)
Nov 12-13: History in Motion
Tanks, Tanks, Tanks! Hear the rumble of historic tanks, vehicles, and boom of artillery at the Museum of the American G.I.'s "History in Motion". Feel the ground shake as the tanks, vehicles, and artillery take to the arena in a fantastic display of historic military might! At the Museum of the American G.I., you will see one of the finest collections of pristinely restored vehicles in the South!
This action-packed weekend has fun activities for the entire family! There will be vehicle and weapon demonstrations throughout the day. In between the demonstrations, you can see historic military vehicles up close or take a ride in a WWII tank or Half-Track!
Gates open at 9:00 AM on both days.  Saturday hours will be 10 AM – 4 PM and Sunday hours will be 10 AM to 2 PM.  Free Parking on-site! Upon entering the museum property, you will ride in a WWII 2 1/2 ton CCKW or modern HUMVEE to the demonstration fields where all of the activities will take place.
History In Motion 2022 - Museum of The American G.I. (americangimuseum.org)
Dec 3: History ARR with Stephen L. Moore, Author of "Blood and Fury"
Tour Guide Annie invites you to join us Saturday, 19 November 2022, at 2:30 PM* to hear an After Action Review by Stephen L. Moore, author of Blood and Fury. Moore will discuss the American hero Sergeant Lafayette Pool, America's top tanker ace of WWII, and his crew as they fight through France, Belgium and Germany in 1944 behind the guns of a Sherman tank.
History AAR with Stephen Moore - Museum of The American G.I. (americangimuseum.org)
Brazos Valley Veterans Memorial
Nov 11th- Veterans Day Ceremony 
Join us for our annual Veterans Day Ceremony on Friday, Nov. 11 at 5:30 p.m. in the Louis L. Adam Memorial Plaza of Veterans Park and Athletic Complex. Activities will commence with the "Honor Wall Roll Call," a reading of military veteran names recently added to the memorial's Wall of Honor. Musical renditions, remarks and presentations to follow include: National Anthem, special recognition of Brazos Valley Heroes (Service Medley), Rifle Salute by the Texas A&M University Corps of Cadets Ross Volunteers, Taps and more. The keynote speaker is Coach Gary Blair.
https://www.bvvm.org/events/2022-veterans-day-ceremony/
George H.W. Bush Presidential Library & Museum
Nov 18th- Silver Celebration- 25 Years of George Bush Presidential Library and Museum
November 18th from 5- 9 p.m.- This community-wide event will feature an Aggie Wrangler dance team performance, the Killer Dueling Pianos, Signing Cadets, an art contest, free cake, food trucks, bounce houses and fireworks! In addition to the evening activities, the museum will be open for free from 9:30 a.m. until 9 p.m.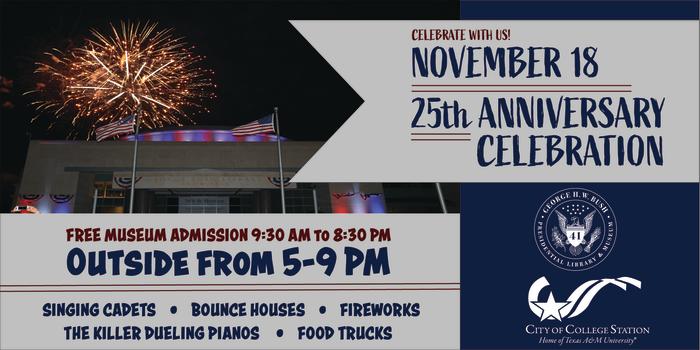 To learn about more ways to experience American History in College Station, please visit Honor the past, remember in the present (cstx.gov).
Written by Aubrey Nettles, Marketing Manager
Aubrey Nettles
Marketing Manager