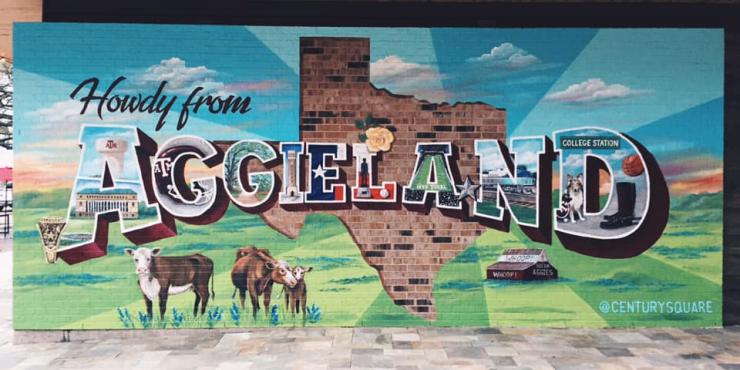 One of the best parts of a great trip is getting to look back on the memories captured in your photos. Bryan College Station has no shortage of spots to snap your next selfie, but here are a few places that are sure to impress your Instagram followers. Be sure to tag your photos with #bcstx so that we can show our followers what it means to Experience Bryan College Station!
556 John Kimbrough Blvd, College Station
The Gardens are 27 acres of beautiful public gardens and green space on Texas A&M University's West Campus, and the perfect spot for a photo sure to impress your Instagram followers!
Haynes Ring Plaza
144 Century Ct, College Station
This 12-foot tall replica of the most recognizable class ring in the world makes the perfect photo spot to commemorate your visit to the Texas A&M University campus! Feel like a part of the Aggie Family by taking a picture next to this famous ring.
Postcard from Aggieland 
144 Century Ct, College Station
Send your friends, family, and followers a postcard from Aggieland with Bryan College Station's newest iconic mural. Located behind Hopdoddy in Century Square, this beautiful mural greets visitors in true Aggie fashion: with a big "Howdy!"
Bottle Cap Alley
Northgate (next to the Dixie Chicken)  
Located between The Dixie Chicken and Dry Bean Saloon, Bottle Cap Alley is paved with nearly 400,000 beer bottle caps. This iconic College Station landmark makes a great spot for a photoshoot with friends and family!
1000 George Bush Drive W, College Station
Photo-ops abound at the George H.W. Bush Presidential Library & Museum in College Station! Sit in the Oval Office, take a walk around the scenic pond, pose in the bluebonnets in the spring, and make sure to stop by "The Day The Wall Came Down" Berlin Wall memorial located just outside the museum.
Lake Walk Lookout Tower
4100 Lake Atlas Drive, Bryan
Climb the stairs of the Lookout Tower at Lake Walk Town Center in Bryan for a breathtaking view of the Brazos Valley. With the Texas A&M skyline to the east and Traditions Club to the north, you would be hard pressed to find a better view of BCS.
West 31st Street Murals
West 31st Street near S. Bryan Avenue, Bryan
If murals are your thing, you won't have to travel far from Downtown to find even more options! These beautiful murals on West 31st Street near South Bryan Avenue perfectly portray the history and culture of Bryan, and make a great backdrop for your next profile picture.
Downtown Bryan Restaurants
Various restaurants in
Historic Downtown Bryan
The flavorful restaurants of Downtown Bryan have decorated their walls with some very relatable memorials. Your family loves seeing photos of you on Facebook, so why not show them how much you love carbs?
4545 Old Reliance Road, Bryan
Not only is Messina Hof a great spot for a wine tasting, but the vineyards and historic buildings make for an excellent photo-op to remember your visit to this premier Texas winery!
18075 FM 974, Bryan
The all new Aggieland Safari is the perfect place to hang out with hippos and even feed a giraffe! Take a walk on the wild side, and fill your Instagram feed with the cutest animals around while you're at it.
Think you're ready for a Bryan College Station photoshoot of your own? Follow us on Instagram @experiencebcs for more inspiration, and don't forget to show us your photos by using #bcstx!