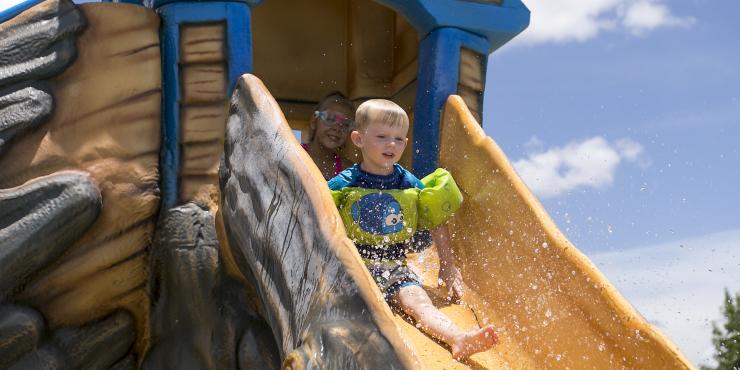 Record breaking-temperatures these days are pushing us – and our overburdened air conditioners – to the limit. Fortunately, College Station offers ample opportunities to help visitors and residents beat the sweltering Texas heat. 
So, give your AC a break and escape with these 10 fun ways to cool off:
 
1. Catch a Movie
Cinemark has all the recent releases and a variety of showtimes to fit your schedule. It also offers numerous discounts for students, seniors, veterans, early birds, and groups – and reduces its prices for everyone on Mondays and Tuesdays.
For a first-class experience, visit Star Cinema Grill offers high-quality dine-in meals while you enjoy your movie. 
 
2. Take a Refreshing Dip
Pack a cooler with cold drinks and take your family to the mini waterpark at Adamson Lagoon!
Likewise, Cindy Hallaran Pool is perfect for young children and families with its shallow water, beach entry, and plenty of shade.
 
3. Test your Throwing Skills
Spend a fun afternoon hurling axes at The Cut Axe Throwing. Test your skills with axes, hatches, knives, and more as a group or by yourself. 
 
4. Climb some Rocks
Get a rewarding workout in at Stone Co Climbing. Rock climbing is a wonderful way to relieve stress, and it's easy to get started.
 
5. Play Games All Day
Spend the day at Grand Station with bowling, laser tag, mini golf, food, drinks, and more! Weekly specials such as college night, ladies' night, and friends & family day are available.
 
6. Treat Yourself
College Station has fabulous shopping options to match anyone's style. Century Square and Aggieland Outfitters are two excellent stops while dedicating a day to shopping.
 
7. Enjoy the Oasis
Visit College Station's impressive adult-only water park at The Cove at BearX and spend the day de-stressing in the lazy river, relaxing at the swim-up bar, or playing fun yard games.
 
8. Cool Down on the Ice
What better way to cool off than ice skating at College Station's local rink? Spirit Ice Arena is a massive indoor facility offering public skates, parties, and hockey and figure skating lessons.
 
9. Discover your Inner Picasso
Spend a creative day crafting at U Paint it or Painting with a Twist. Choose your own ceramic to paint and design with provided tools and have your piece glazed within a week.
 
10. Say "Cheese!"
Take your friends to the Aggie-owned and operated museum, Kinda Candid, and spend the day taking fun pictures inside 14 picturesque exhibits.

By Aubrey Nettles, Visit College Station Marketing Manager and Kate Gustin, Visit College Station Intern